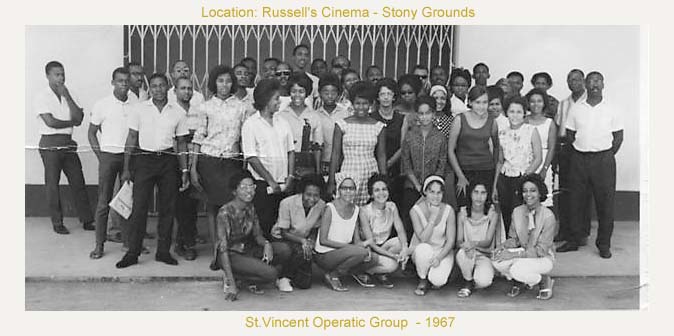 My Thanks to Carl Tucker who submitted this photo.

Carl's comments are as follows : The venue is Russell's cinema at Stony Grounds shortly after 4:00 pm on a week day in 1967.  The group produced very successful performances of Gilbert & Sullivan's light operas 'The Mikado' and 'The Gondoliers' at the same cinema. How did this group get started -As I recall, Jean Duncan came to me at the Treasury Department and said something to this effect:

Jean:  'Carl, Pat (Prescod) and I are forming an opera group, and we want you.

Carl:   'Sure! but what is opera?'

Jean:    'It's just like acting but everything is sung  instead of spoken.  We're setting up a meeting, I'll call you.'

The operatic group is a merger of Pat Prescod's choral group and the church choirs in the Kingstown area. Who are Gilbert and Sullivan -

Gilbert   - English playwright and lyricist  (1836 - 1911).  Knighted - 1907.

Sullivan  - English musical composer (1842 - 1900).  Knighted  - 1883.

As was suggested, here is a great opportunity for your viewers to name the members of this very ambitious group. Good Luck.Carl E. Tucker.

Fred Prescod sent me an interesting link about the Barrouallie Whalers that you may also want to check.

Who Are the Barrouallie Whalers?

The "Barrouallie Whalers" of St. Vincent and the Grenadines consist of several men who have worked in longshore whaling from time to time. Their home, Barrouallie (rhymes with "warily"), a fishing and farming community on the leeward (west) side of the island of St. Vincent, West Indies, has a history and reputation as a blackfish (pilot whale) hunting center during the 20th Century. Within living memory, Barrouallie men pursued various types of whales from Yankee-style open 25-foot wooden whaleboats powered by sail and oar in a manner similar to that of 19th Century American whalemen. The  Barrouallie Whalers also are the last practitioners of a unique Eastern Caribbean musical tradition that accompanied their whaling activities. They call their acapella whaling songs "shanties."

Remarkably, many of the Barrouallie shanties are direct descendants of classic deepwater sea chanteys (sailor songs, also  spelled "shanties") such as "Blow the Man Down," "Goodbye Fare-you-well," and "Rio Grande." On the basis of a visit to Barrouallie in 1966, American folklorist Dr. Roger Abrahams published a book, Deep the Water, Shallow the Shore, on Caribbean shanties. This book, which featured interviews, songs, stories, and photographs of Barrouallie whalers, became a reference of great interest to chantey and maritime enthusiasts throughout the world.

The Barrouallie Whalers include Edgar Mulraine, Alfred Mason, George "Tall 12" Frederick, Veron "Maysay" Harry, Milton "Proova" Anderson (now of Barbados), and George "Bopsy" Marson. Several of these fellows, who were among those Abrahams recorded in 1966, appeared in the cover photographs of Deep the Water, Shallow the Shore. They form the core of a small group of Vincentians who, since reconvening in 2001, are reviving memories, stories, and songs of their whaling days.