St.Vincent Oldies - Current

This page was last updated on: 19 November, 2006
Photos can be downloaded for personal use -for all other use, permission must be granted.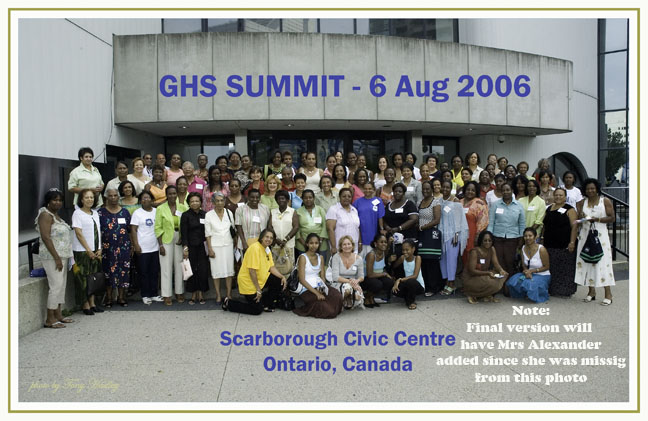 Mrs Alexander will be added

to the final version of this photo. 8x10 Print will be color corrected with appropriate density.

I will create a DVD containing all of the photos and you will be able to play it back on your TV with a DVD player. This will take about a week or so to create and I will ask for a contribution of 11.00 plus shipping and handling. If time permits I will also include some St.Vincent or other photos as a bonus.

Item  A.  DVD alone 11.00 plus shipping and handling (approx (2.50) - CDN funds

Item  B.  One  8 x10 group photo $11.00 plus shipping and handling (approx 2.50 - CDN funds

Item  C.  One DVD and one Group photo  $20.00 plus shipping and handling (approx 2.50 - Cdn Funds

Canadian residents can send a cheque or money order to P.O. Box 73004, Candiac, Quebec Canada J5R 5X3

All others, please send a money order.

For each order received I will donate $1.00 to the summit fund as directed..

The NEW closing date for orders that involves a DVD is Sep 20th 2006 (due to special circumstances).

Please note that Shipping and handling outside of North America is $4.50 CDN

The DVD will contain still photos with nice transitions and music. No Movies are included.

6 Aug 2006:

Over 100 past and present students and teachers of the Girls' High School gathered at the Scarborough Civic Centre in Canada on Sunday August 6 to plan for the school's 100th Anniversary in 2011.

A grand reunion to mark the 100th anniversary of the founding of the Girls' High School (GHS) will be held in St. Vincent some time in 2011. This decision was taken at the Global Summit of past students of this nation's premier girls' school held last Sunday, August 6 in Toronto, Canada.

Under the theme: "We are all in this together. Together we can do more", representatives of graduating classes from 1933 to 2002 interspersed the serious discussions surrounding the future of their alma mater with precious moments of laughter, tears and memories.

Feature speaker, Pastor Trudy Nanton-White set the tone for the summit by reminding the alumnae to place God at the centre of their deliberations and their lives. In her report, Headmistress of the GHS Andrea Bowman spoke of the achievements of the school as well as the challenges faced by today's students. Collette Charles, a 2006/2007 5th form student gave her perspective as a student of the school and informed the gathering of the changes her schoolmates indicated that they would like to see.

Ten committees were formed to lead projects geared at celebrating the school's centenary. Ynolde Mulraine-Adams will lead the committee to oversee the writing of the school history; the auditorium committee will be led by Marjorie Williams Cuffy; Paula Nanton Cox will spearhead efforts to compile a directory of the alumnae, while Rosalind Marshall Carew will head the fundraising committee.

Marcia King-Gambell chairs the Essay Competition committee while Lynette Norris Glasgow will coordinate efforts to publish a cookbook and have a mural painted in addition to other beautification projects at the school. Cheryl Phills King heads the endowment committee; Marguerite Rose will coordinate the lecture series and Janet Smith will organize a series of Arts nights.

During the course of 2007, an official Girls' High School website, which will play a pivotal role in disseminating information and galvanizing alumnae into action will be launched. Hayden Duncan chairs the website committee.

The plenary session was chaired by Dr. Joyce Providence Toney and was attended by some 100 members of the GHS Alumnae from throughout North America, Europe and the Caribbean.

The event, which was hosted by the Toronto Chapter of the Alumnae was one of the activities held in St. Vincent and overseas to celebrate the 95th anniversary of the founding of the school on May 8, 1911.

The Toronto Alumnae, whose president is Sharon Cato Hypolite, also hosted a welcome reception at the home of Dawn Fraser-England and her husband Raymond, on Friday August 4, as well as a brunch just prior to the summit. The summit was followed by a very well - attended Caribana Fete at the Scarborough Masonic Temple on Sunday night.

Source: Searchlight Newspaper.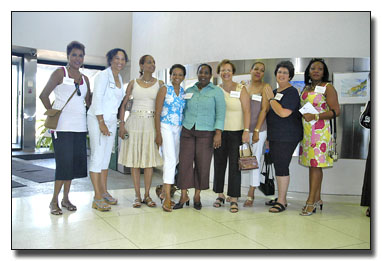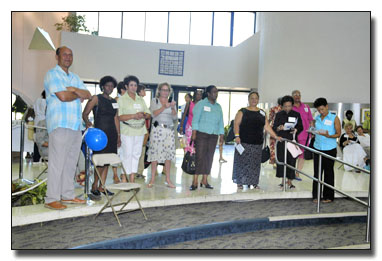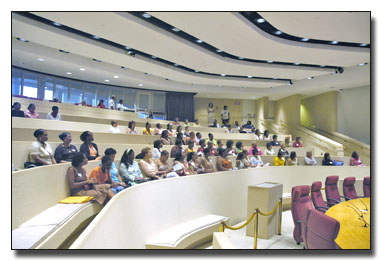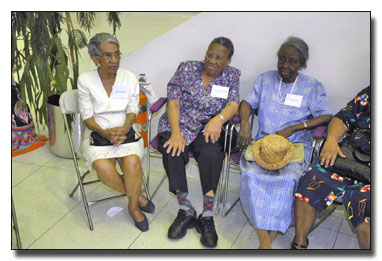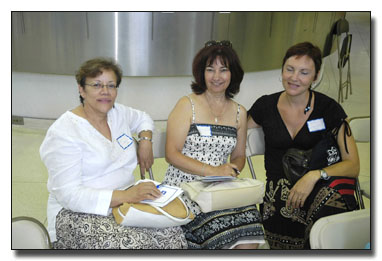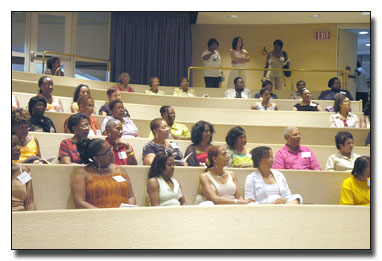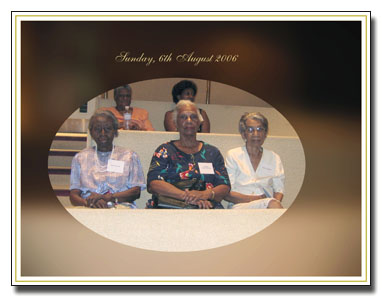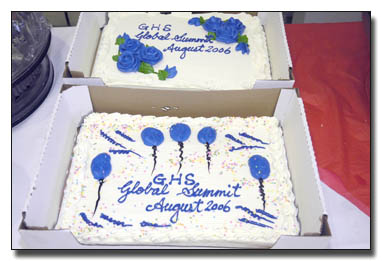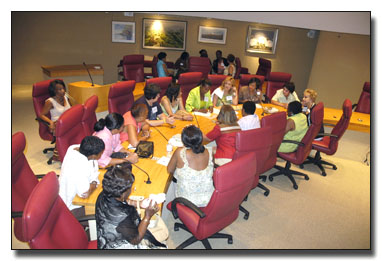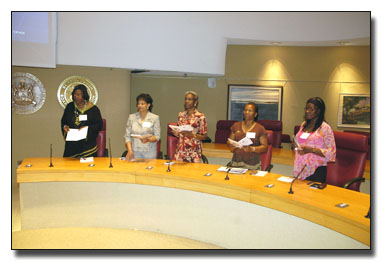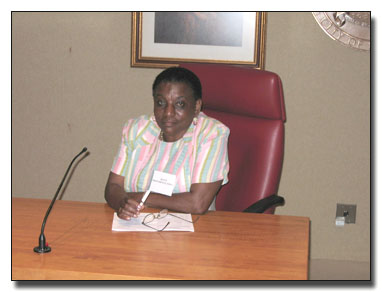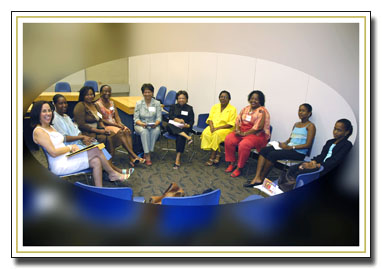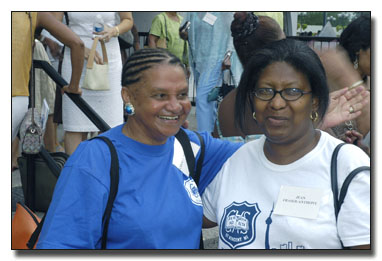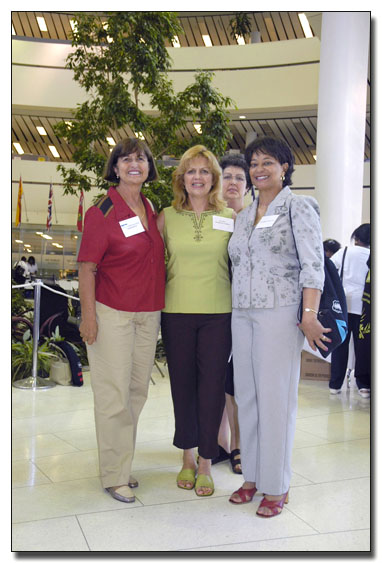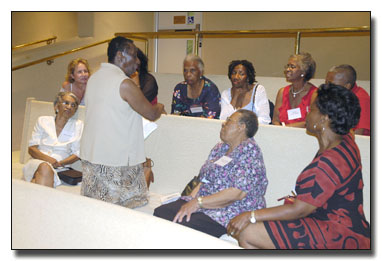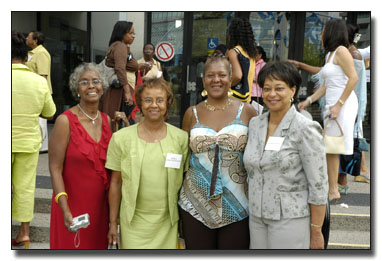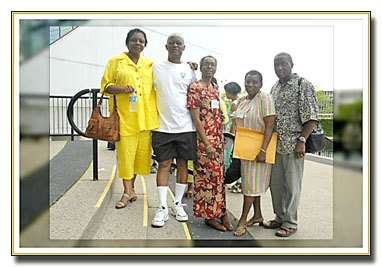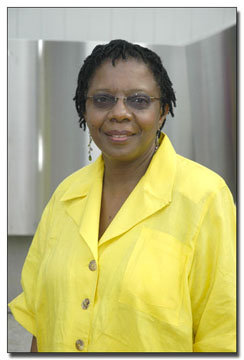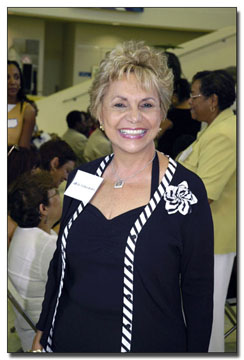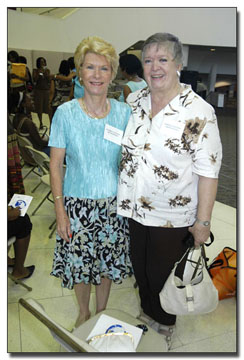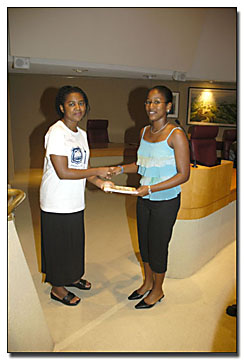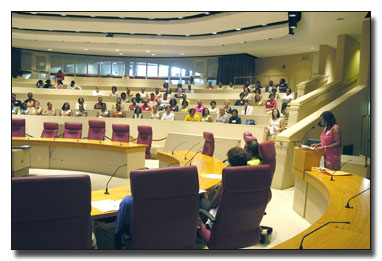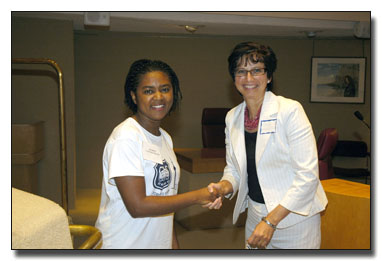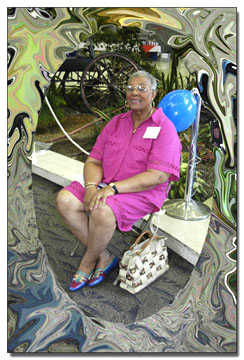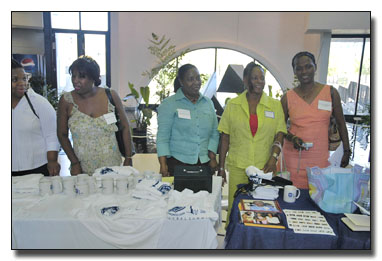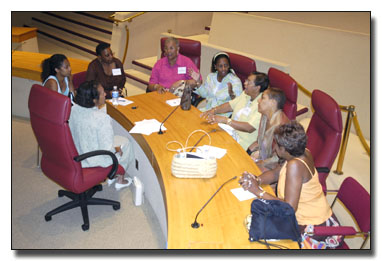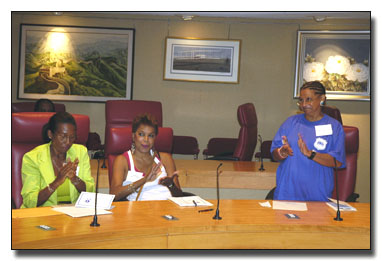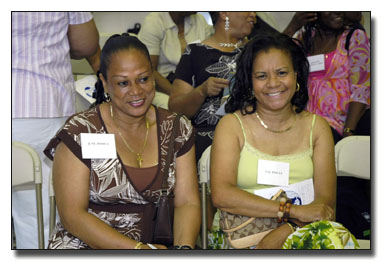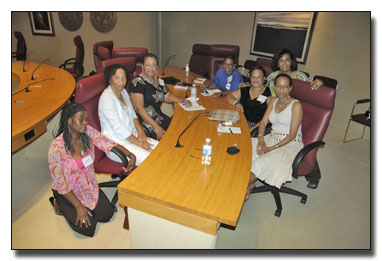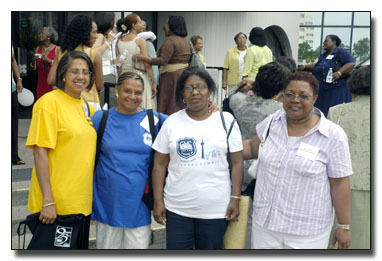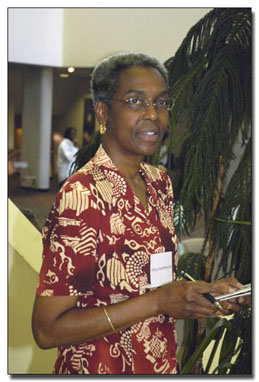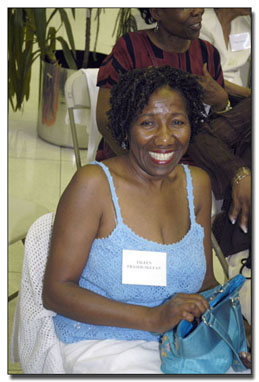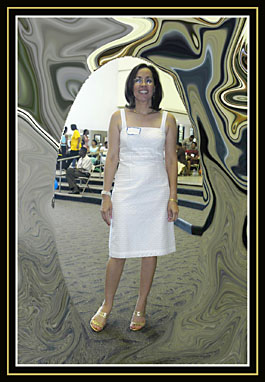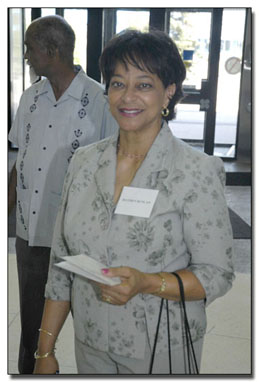 I have had a few request that it would be nice to identify the folks in  the photos. Click on the e-mail box to send me note decribing the photo as e.g. Column 2 row 3 (steel drum photo).

I don't think we can do the group photo but we can try.


Thanks to Sharon Fraser for the following:

Elizabeth 'Liz' Browne-Morris - Column 2 row 3

Column 2 row 1 - L-R > Marcia King-Gamble, Hetty Daly, Laverne Baynes-Fraser, Maureen Ollivierre-Lake, Sharon Fraser, Liz Browne-Morris,

Sonia Crichton-Brisbane, Rosamond Cropper-Howard and Narissa Morris.

Column 2 row 2 L-R > Sybil Blair, Muriel Velox-Fraser and Irma Norris (former GHS mistress).

Column 2 row 18 > Eileen Fraser-McLean

Column 2 row 19 > Gail Branch-Alexander

Column 1 row 2  L-R > Cynthia John-Bentham, Hazeldene Phills-Hercules, Jenny Morris,

Liz Browne-Morris, Marcia King-Gamble

Thanks to Hadyn Duncan for doing the names in the group Photo.

I'll give you those that I recognise.  Hopefully, someone else/others will fill in the blanks.  This is the group photo:

Front row, l to r, kneeling: Hazeldene Phills Hercules, [?], Jannette Mills, Colette Charles, [her sister], [?], [?]

Front row, l to r:  [?], Cecile (Alves) Smith, Muriel Fraser, Jean (Fraser) Anthony, Lynette Norris Glasgow, Cynthia (John) Bentham, Irma Norris, Joyce Providence Toney,

Yvonne Jack, Grace Israel, Elsa Stephens Jones, Cheryl Phills King, [?]. Margaret Sullivan, Mylene Matthews, Dawne Matthews, Ingrid Matthews, [?]

Rosie McIntosh, Asonta Williams ___,

Second row l to r, Rosemarie Agaard ___ (on wall), Gloria Thompson Olivierre, (infront of her and been Mrs. Fraser and Jean is Joan Samuel Simien, Antonia Rose,

Cecily Forbes Deare, Rosalind Marshall Carew, Marjorie Williams ___, Jean Gonzalves Meredith, Grace Toney Stephens,Patsy Hadley Corea, Jennifer Morris, Janet Stewart-Smith, Andrea Keizer Bowman,

Clare Keizer, Valerie Creese ___, [?] Shirley Browne Winsboro,  Note, it gets jumbled here because the rows and not always defined.

Next row l to r:  Liz Brown Morris, Vilna Velox Liverpool, [?], [?], [?], Marguerite Rose ____, Laverne Baynes ____,

Michele Davidson, Hayden Duncan, Arlene Deare Kirton, [?], [?], Pauline Coombs, [?], Shelly Williams John, Sharon Cato Hypolite.

Back row l to r:  Lad Winsboro, [?], [?], Paula Nanton Cox, Norcene Cummings ____, Marcia King Gamble, [half of someone's face], Hetty Daly, Hazel Thompson Pompey, Annette Alves Gibbs,

Gale Branch Alexander, [?], [?] Rosamund Cropper Howard, Sandra John, Elaine Lewis, Elrah Robertson Robinson, Betty Sandy Steele, Monica Sandy Wolkowski, Louise Sandy Deare.

When I have some more time, I can do a cross check with the individual photos on the two pages, using clothing as a guide.