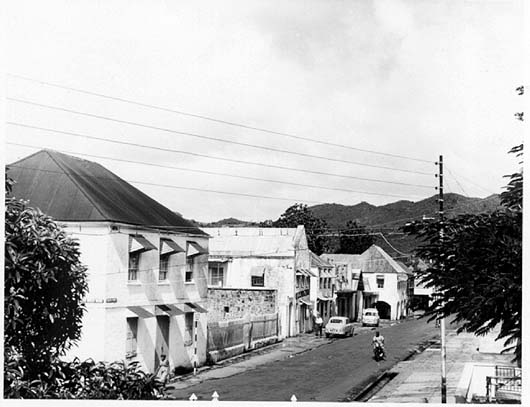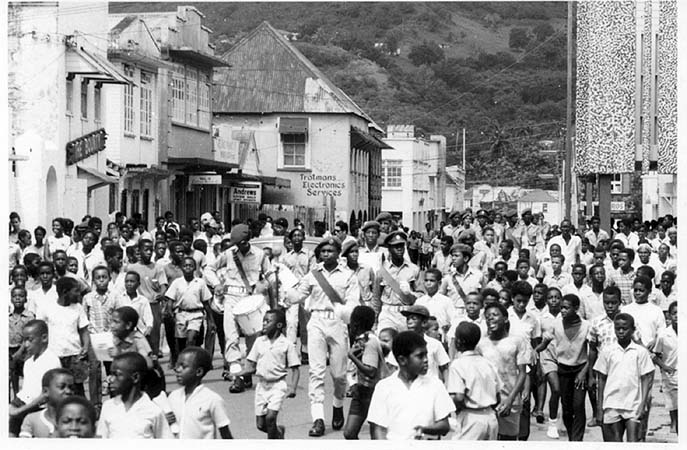 Thanks to Clifford Edwards for these photos of Back Street in the fifties. You might say that one of these pictures gives new meaning to the "backStreet Boys". Anymore info on this picture/event  would be appreciated. Recognize anyone?


7 july 2001: My thanks to Lindsay Frank who supplied the following information:

That's the Grammar School Cadet Band for which Rev. Allan F. Kirton of the Methodist Church was instrumental in assembling during the late late 60s or early 70s.  The drummer on the left with his head bowed is Timothy Hazel.  The drum major is Don Bobb.  The fellow who is beating the big bass drum in  "Ram" Bennett. 

22 April 2002:  Just a correction the drummer in the photo was the late Denzil Stewart(Hugh's Stewart's brother) and not Ram Bennett. Bennett was a bugler and he is the person right behind the drummer. The person on the drummer's right is Leroy Leacock StClair's Brother. StClair is also in the photo , he's on the left of Don Bobb and on his left is Maurice Robertson(Doctor).

I was a member of this band but not in the photo. I think the drummer in the centre was Peter Fraser(Lisle Fraser's son)  Regards,  Garth Williams My thanks to Garth.