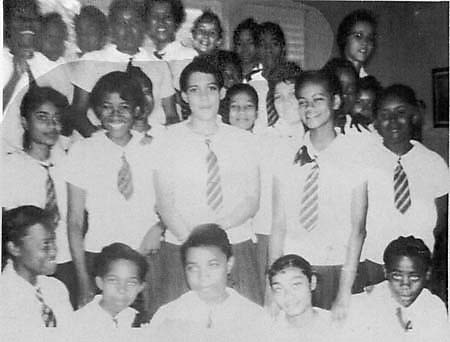 GHS 1961 - Lower Fifth Form

Front Row Left-to-Right

Norma Neverson, Candace Gurley, Else Stephens, Anne Bachus, ASH?

Second Row

Aileen Sutherland, Cynthia Whittle, ??1 Marcelle Slater, Dawn De Santos

Third Row

Joan Gonsalves, Nesta Paynter

Thanks to Marcelle Slater for his photo which came via C. Whittle


Cheryl King writes:

I looked at the picture to which Cynthia W referred

and in the back row (l-r) #6 is Elizabeth Harold and #9 (extreme right in  glasses) is Pearlie Agard.

The person in the front row is Sandra Ash (far right).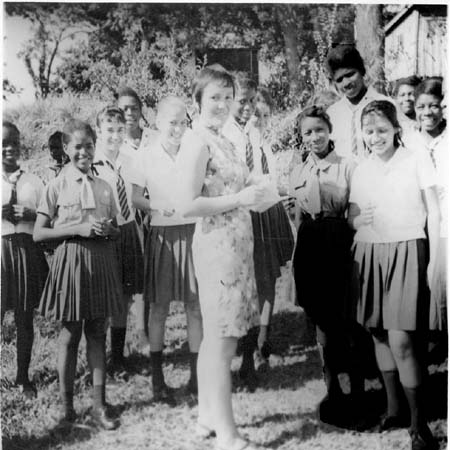 1967 Photo: Here's a shot of a different set of faces - our teacher here is Kathy Piercy who went on to marry Sims Martin.  From left to right,

we are:- Serena Tony, Marva Hinds, Rose Anne DaCosta, Margeret Marshall, Dina Mascoll,  Kathy Piercy, Anne Williams, Annie

DeFreitas (far back), ?, Shermain Walker (tall girl), Cherrie Bowman, Anes Brown, Sandra Bramble.

Thanks to Rose Anne Dacosta for submitting this.

I believe that the person in the Lower Fifth form photo, sandwiched between

Cynthia Whittle and Marcelle Slater is Ursula (Dennie) Martindale.   She

must have been their prefect.

Bye for now,

Cherrie Cuffy

.

2003 Update

Thank you for this wonderful site.  When I get home sick I just travel through the pages and I'm back home again.  In page 87  GHS 1961 Lower Fifth Form, the

name "Serena"? she was Serena Tony not sure if she got married.    It is truly a wonderful idea.

Thank you and may God bless you.

Sandra Bowen