St.Vincent Oldies - Historic

This page was last updated on: November 28, 2006
Photos can be downloaded for personal use -for all other use, permission must be granted.


Dear Tony,

Before 2005 ends I want to send you five more photo''s, to do with as you see fit.

The ten girls in large hats to be seen in the first picture are sixth form pupils of the GHS in 1949. I do not know any of them, but I do know the teacher in their midst. She is Miss Millicent Byron. Ten years later, in 1959, she visited Noel Lopey and me in The Hague, a few months after Noel had come to the Netherlands and a few months before we were married. The second picture shows Miss Byron and Noel in the Begijnhof, a beautiful close in the centre of Amsterdam. Unless my memory deceives me it was only a year or a few years later that Miss Byron was drowned, I believe while sailing off St.Kitts when the Ferry Boat Christina sank.

The third picture was taken in December 1949 at Kingstown Port, on the occasion of GHS teacher Miss Ellison leaving St.Vincent. This time Noel is among the pupils depicted (third from left). Lynda Snelling, to whom I once showed this and other pictures, recognized among the teachers her mother, Ruby Windebank, and Miss Hiddle, and among the pupils Pauline Allen, Jenny Jacobs, Sidney Morris, and Lorna Findlay.

The fourth picture shows Noel with sir Rupert and lady Hepzibah John in January 1974. (I can only hope that I spelled the name Hepzibah correctly.) During this, my only visit to St.Vincent we were invited by Sir Rupert, the then governor, to have tea in Government House. This was most pleasant, and I also fondly remember the walk up to Government House through the beautiful Botanical Gardens.

The fifth picture, finally, shows the painting Noel made in about 1980 of the view from her parental home in Edinboro. She had only just begun painting and we jokingly used to say that this was from her primitive period. She made it from memory though aided by some pictures we had taken in 1974. In the distance is Bequia, of course

I hope you like these pictures, and also that 2006 will be a good year for you.

Henk ter Heide

From Tony: The 5th picture will be loaded in Feb 2006.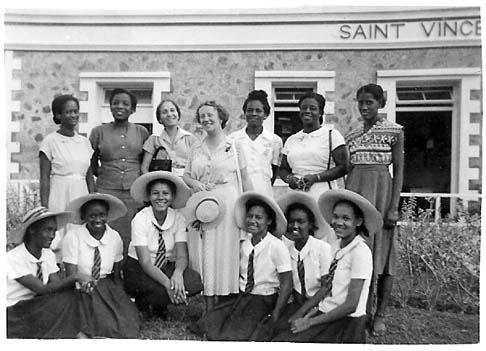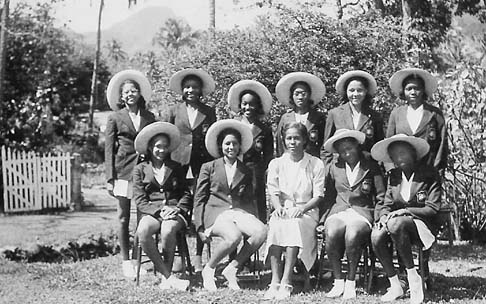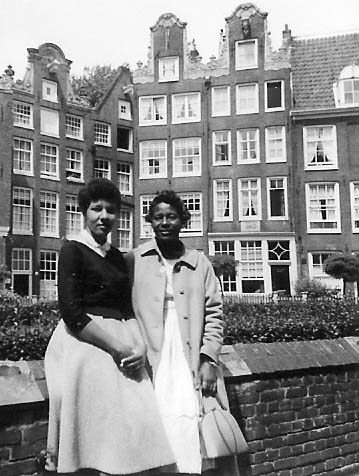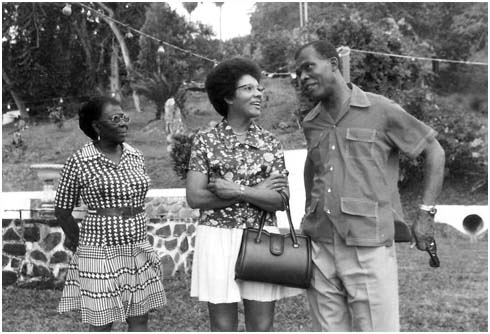 Having visited Holland, there is usually a pulley at the external top of the building that allowed you lift heavy items (e.g. pianos) and bring them in through the window..

Tony

L-R: Noel Lopey and

Millicent Byron.

Botanical gardens in the background.

Jan 2006: Julian Duncan writes:

Dear Tony,

Greetings from Trinidad & Tobago and best wishes to you and your family for a blessed 2006.

I have just had a chance to visit you website and noted some pictures sent to you by Noel Lopey's widower.

In the picutre at the top are:

Teachers -Jenny Jacobs, Pauline Allen (Young) Ruby Windebank,   I

thought that was Miss Ellison?, Millicent Byron, Lousie  Cambridge, Sydney Morris Pupils - Thelma Cox, Joyce Cox, Noel Lopey, Lorna Findlay, Rosecleer Jack (her daughter Inyang Ebong-Harstrup, is now the UNDP representative to Trinidad) Jacqueline Antrobus. In the picture below the person at the extreme left in the back row is Stella Nanton.  Best wishes Julian Duncan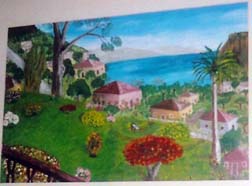 Painting of Edinboro by N. Lopey

13 jan 2006: Henk writes:

Yesterday Lynda Snelling, having received my letter and pictures, phoned me to say, among other things, that the lady with the black handbag in the second picture on page 137 of Tony's Oldies is indeed her mother Ruby Windebank. She does look rather young for her age, and Lynda remembers her hardly ever carrying a handbag, but it is she. Noel is sitting just in front of her. Lynda did correct her earlier description of the photo in one

respect: Miss Hiddle is not in it. I met Mrs. Windebank only 20 years later, in 1969, when she was living with Lynda & George in Crawley (England); the picture I then took shows her to be an old lady, and I believe she was already suffering from reumatism.

I have been trying to remember whether I met all three of the girls who were with Noel on the SS Hildebrand, but though all of their names are familiar to me I am not sure. I only met Noel after she had finished her nursing training in Epsom. She then went to Glasgow for midwivery training, where she introduced me to several of her friends, including I think June, but I am not sure about Vilna and Clare.

One question which I also asked Lynda but she could not answer: do you happen to know the present whereabouts of Stella Nanton? Her I met several times, most recently in 1993 when both of us happened to be in Toronto on the same day, and we had a very pleasant lunch in the revolving restaurant on the Space Tower. She was then called Stella Rosenzweig and lived in New York, but I believe she has since moved to Florida without giving me her new addres.

Henk ter Heide


November 2006

In the photo at the top of the page, the Student standing directly behind Millicent Byron is my great aunt, Elaine Duncan who lives at Dorsetshire Hill. The person on her right maybe Therese Cuffy.

Erica