St.Vincent Oldies - Historic Personal

This page was last updated on: 19 November, 2006
Photos can be downloaded for personal use -for all other use, permission must be granted.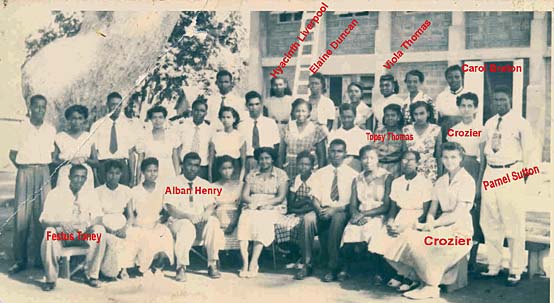 Georgetown Government School Teachers - any idea when this shot was taken?  Are we able to identify other persons?

So far we have

- Festus Toney, - A. Henry  - Croziers - P. Sutton - Breton - E. Duncan

- H. Liverpool - T. Thomas - V. Thomas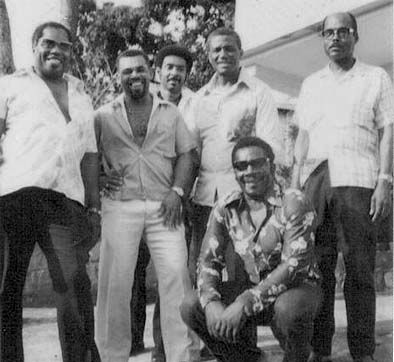 Hey Tony,

I thought you may be happy to get this old boy's picture. I am Shona Quammie, the niece of the late Joyce-Elliot Quammie. Attached please find a photo.

Left - Right: Chris Williams, Conrad "Back" Llewellyn, Irwin Williams, Joyce-Elliot Quammie, Jerome Burke, Crichton Bacchuss (stooping).

My dad believes the person stooping is Crichton Bacchus but he said that is subject to corection. My dad is Stanley Quammie.

Hope you find the picture useful.  

Shona E. M. Quammie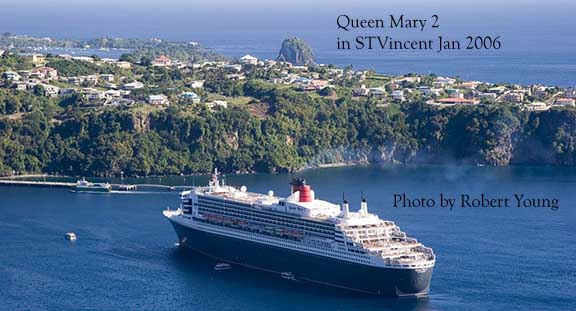 Queen Mary 2 - 28 Dec 2005


March 2006

Hi ,I want you to know that I've been visiting your web site quite often,and want you to know that it's quite interesting and informative.I'm a  Vincentian who left home quite a few years ago,and felt that I had to write you at this time.I attended the Georgetown Govt School and I think that I recognised some of the teachers in the photo.So here they are;-Looking at the picture,the one on the right of Viola Thomas is Rhona Liverpool.The one on the right of Topsy Thomas is Anne Clarke.The one on the left of Alban Henry is Viola Daniel.The one below Elaine Duncan is Myrtle Richards.I think these are correct,and I think the photo was taken sometime in the 1950s.I will keep working on the others.Keep up the good work ,it's quite informative.

From Carmel Young

18 MARCH 2006 - Hello Tony,  This is Hyacinth Liverpool.

Following on the previous update from Carmel, here is my additions to the photo of the Georgetown Government School Teachers. To my best recollection this photo should be dated around 1960.

Front row- 2 places to the right of Alban Henry is the Head Mistress Agnes Cordice.

Middle row - To the left of Topsy Thomas is Alrica Phillips(now Emanuel), to her left is Myrtle Richards, continuing left is Kelvin Gibson,to his left is Vander Clarke, to Vander's left is Leroy Scrubb, to Leroy's left is Elaine Huggins, to Elaine's left is Alfred Dublin.

Back row- Between Viola and Elaine is Therese Cuffy and to My (Hyacinth) left is Leopold Lewis.

Few faces I could not identify, however on staff around this time we; Marva Ollivere, Jean Stevens, Lenford Sampson and Kemuel Warrican. Hopefully after you update the photo the missing faces could be matched.

Looking back. In the background of the photo appears to be a two story building. In the G/Town school yard there was no building of this nature. Thus, I believe the backdrop is the Cinema which is close to the school yard, not too sure of this.