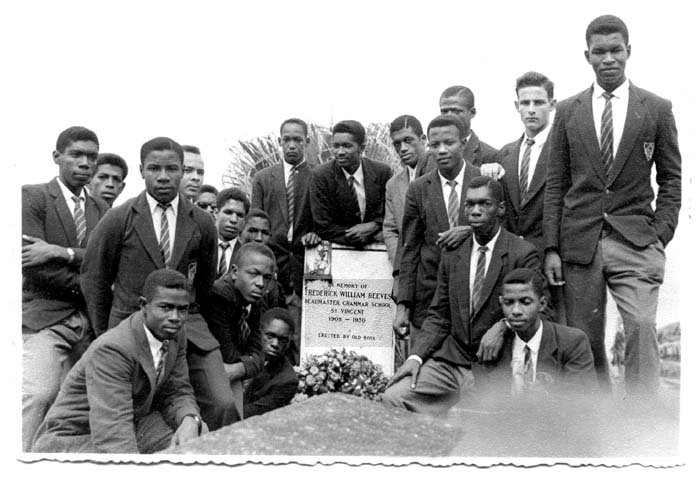 Please click on "sendme a message"if you can identify other names.  Thanks. Tony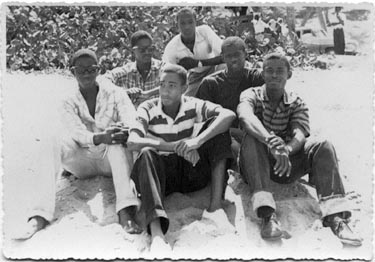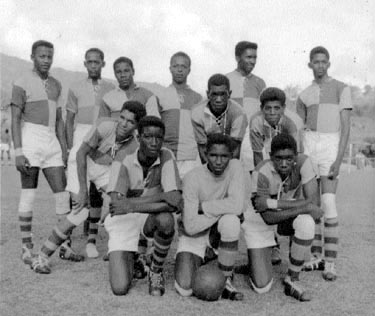 This is the football team that went to Grenada for interschool sports in 1960 I think.

Front row:  E.G. King, Mickey Findlay, Eliot Frank

2nd row: Basil Dias, Winston Frank, Keith Saunders

Back row:  Rodway Fraser, Bunny Baptiste,  Carl Tucker, Raymond Knights,

Dougie Cambridge and Stanley Browne

My thanks to Elsa Jones for submitting the pictures and the above text.

Headmaster Reeve's Grave surrounded by members of St.Vincent Boys Grammar School.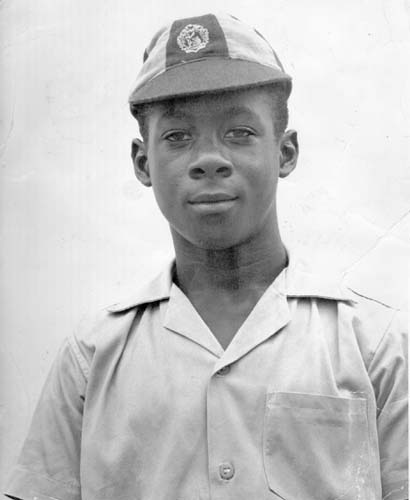 Kerwyn Morris identified the fellow as Rawle Mars living in ST.Kitts

Thanks to Lindsay Frank:

At the top: Bunny Baptiste

Middle: Stanley Browne and Winston Gilbert

Front: Mikey Findlay, Denzil "lad" Winsboro, and Fred Stephens

Standing at the back from left to right:

Elliott Frank, Keith Saunders, Carl Tucker, K.R.V. John, Basil Dias,

Stanley Browne, Mikey Findlay, Bunny Baptiste, Douglas Cambridge, Cammie King, Winston Gilbert, Rodway Fraser, Jeffrey Hadley, Lawrence

Front row from left to right:

Fred Stephens, Raymond "Fuzzy" Knights, Carl Glasgow, Winston Frank,

Harold Dougan

Thanks to Lindsay for the identification.

Jan 28, 2002. I got this reaction to the BGS Uniform:

"when xxx was a pupil (1929 - 1935?) at BGS there was no uniform but boys were expected to wear a cap or a hat in the school colours.  When walking to school, xxx often passed the Second

Master Mr Lopey who always greeted him with a "Good morning xxx" whilst touching his cork helmet; the reply to which was "Good morning, Sir" and a touch of the cap.  We suspect times may have changed!"