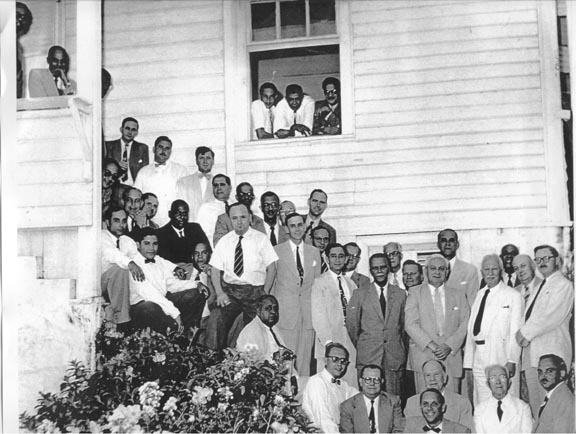 The Kingstown Club - 1950

Below is an update of the members of the Kingstown Club. I have checked with Col Anderson who provided me with a few more names but could

not remember all.

IN THE VERANDA

Milton Cato; Val Archer; ?

AT THE WINDOW

Joker Williams; Sam Slater; Basil Dias

SITTING ON THE STEPS

Jex Sprott; Jeoffe Shillingford; C.deB Barnard; Col S. A. Anderson; Ronnie Cools-Lartigue; Johnson, ?, Dr Frank Ellis; Hugh Mc Connie; E. A.

Banfield; Vin Sprott; Claude Layne; St Clair Mc Connie; Dr Sydney Gun-Munro.

STANDING

Dennis Hadley; Giovani Ferrari; Gerry Palmer; Hillary Da Silva; O. C. Forde; Jonny Halbich; Dr Harry Munro; ?; A. C. Hadley; David G. Murray; ?;

Fred J. Dare; G. Cropper; Louis Spence; Frank Sardine; Loroy Gill; George Muller; E. A. C. Hughes; George Muller; The 2 Gentleman in light

colored suits it is believed to be representatives from Morningstar , the Company who use to purchase our Arrowroot; behind them ?; A. F Giles

CLIFFORD

Thanks to Clifford Edwards  for the research and Michael Gun Munro for this picture.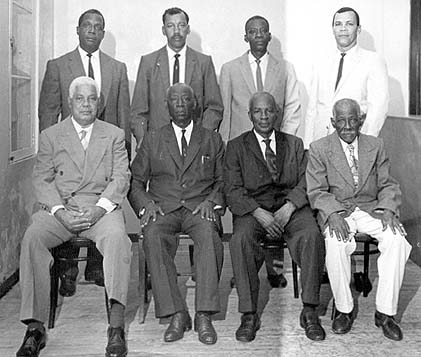 Board Members ST.Vincent Agricultural Credit & Loan Bank. It is now the 1st St.Vincent Bank.

The photo was taken late sixties or early seventies and was submitted by Fred Prescod.

Standing left to right:

Inspector Allen, Randolph Russell, Hercules, ????

Sitting left to right:

Phills, C.W. Prescod, S.O. Jack, R.T. Samuel

Tonyoldies - St. Vincent Business Leaders  - 19 Fifties.