This page was last updated on: November 19, 2006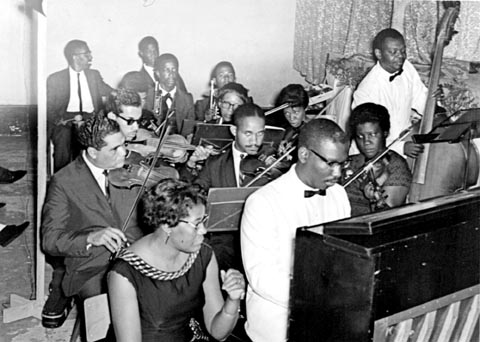 Orchestra which accompanied the production of the Gondoliers.

This production was performed in 1966.

From front to back

Sydney Morris; Patrick Prescod

Noel Innis; Ardon Hazell; Clara Prescod; Ardon Daisy

Robert Cumberbatch; Ena Robertson; Sandra Baptist

Wilson Jack; Vernon Cooms; Ardon Mc Intosh

Rawl Soso; Kenton Kirby

Thanks to Clifford Edwards who forwarded this picture.

I had already left St.Vincent when this the production of the Gondoliers but I was there for the production of the Mikado in 1965?

It is times like this that I wished that I would have kept notes about the production of the Mikado or find pictures of the event which I know I took.  So we will have just got to go from my limited memory.

I was  a piano student of Pat Prescod (see photo) and on occasion we discussed the possibility of doing a production (I am sure others thought of this also) of the Mikado. It would utilize the musical, acting and costume making talents of Vincentians who we knew would excel at this. And we were right!  Correct me if I wrong but we had several productions at the local Robinson cinema house (we had a fond but animalistic nickname for the owner) in Kingstown.  We had a lot of fun practising for the event and performing it.

Lennox Iton writes to indicate that he too was a violonist (also a student of the Prescods). Perhaps there are other photos out there. I seem to remember that there was a Mrs Saunders  who had an active part to play and sing. There was also an assembly of folks who had gathered one day on the grounds of the GHS to start the planning phase of this project.  So many who had a part to play and here are a few names: Clifford Edwards, John Horne, Erlene Williams, Leo Lewis, Trevor Edwards, Financial sponsors (CVD Hadley, WJ Abbott and others) , Mr Robinson,  Fitzroy Clark .....

And as my mind drifts, there are very pleasant memories of the Music Festivals held at the Peace Memorial hall. I can recall some truly exceptional performances and the associated voices that met with thunderous ovations from an appreciative crowd.

The story of The Mikado revolves around a young fellow named Nanki-Poo who has banished himself from the little town of Titipu. Nanki-Poo, it seems, has fallen in love with a beautiful young lady called Yum-Yum. Unfortunately, Yum-Yum is engaged to be married to her guardian, the tailor Ko-Ko. However, when Nanki-Poo hears that Ko-Ko has been condemned to death for the capital crime of flirting, he hastily returns to Titipu, only to learn that Ko-Ko has not only been granted a reprieve, but has been promoted to the post of Lord High Executioner.

Apparently, those in power, wishing to slow down the rash of executions, reason that since Ko-Ko was next in line for execution, he can't cut off anyone else's head until he cuts off his own! The Mikado, however, soon takes notice of the lack of executions in Titipu and decrees that if no executions take place within the time of one month, the city shall be reduced to the status of a village.

Ko-Ko, desperate to avoid cutting off his own head, vows to find a substitute, and as luck would have it, just at that moment, Nanki-Poo wanders onto the stage with a rope determined to take his own life rather than live life without his beloved Yum-Yum. Ko-Ko immediately siezes on this opportunity and offers the young lad one month of luxurious living at the end of which he would be relatively painlessly decapitated. Nanki-Poo agrees on the condition that he be married to Yum-Yum right away so that he can spend his last month in wedded bliss. But just as the wedding celebration begins, a law is discovered, much to Yum-Yum's distress, which decrees that a condemned man's wife must be buried alive with his corpse!

St.Vincent Gondoliers Orchestra

20 December 2001: Thanks to Irma Dougan and Cheryl King for supplying the following:

"The Mikado" - could it have been "The greatest show that St.Vincent ever produced,"?

The show was performed by the St.Vincent Light Operatic Group (many of the singers drawn from the Kingstown Choral  Group)  The performances were on December 10th & 11th 1965  at Russell's

Cinema.

Personnel:

Music Director: Patrick Prescod, L.R.S.M.,G.T.C.L

Assistants: Mrs. Marlene Adams of Minnesota, U.S.A.

           Mrs. Sydney Morris.

Stage Directors: Dr. Edgar Adams & Mr. John Horne.

Art: Mr. Douglas Brisbane.

Assistants : Edith Cooper, Daphne Harold, Hayden Duncan.

Sets: Mr. Egbert Gould, Everette Beckles, Mr. Earl Cato.

Costumes : Mr. Winston Samuel, Mr. Brian Huggins.

Assistants : Miss Louise Jackson, Mrs. G. Barrow, Mrs. Theo Saunders, Mrs.

Marie Bowman, Mrs. Dorothy Edwards, Miss Belle Allen, The Misses Shirley &

Rose-Clair Vanloo.

Make-up: Miss Janet Brothers, Mrs. Evelyn Bonadie, Mrs. Yvonne John.

Hair Stylists : Sylvia DaSilva (Mrs.)

               Cora Shillingford (Mrs.)

Publicity: Mr. Wilson McKeckney, Mr. Fitzroy Clarke (Assistant)

House Manager: Mr. Winston Baptiste.

Props Mistress : Mrs. Elaine DeShong

Box Office: Miss Jean Duncan, Mr. Kenneth John.

Choreography: Dr. Edgar Adams.

Orchestra:

Violins: Mr. Lennox Iton

        Mr. Robert Cumberbatch

        Mr. Jex King

Trumpets: Mr. Ardon McIntosh

         Mr. Clive Coombs

         Mr. John Williams

PIANO

Percussion Instruments

Drums

PHOTOGRAPHY: Fitzroy Clarke

                          Anthony Hadley

The MIKADO, or The Town of Titipu

DRAMATIS PERSONAE

The Mikado of Japan----------------------------Alfonso Millington

Nanki-Poo (his son distinguished as a wandering minstrel and in love with

Yum-Yum      -------------------------------------Trevor Edwards

Ko-Ko (Lord High Executioner---------------Bertram Arthur

Pooh-Bah (Lord High Everything Else)---John Horne

Pish-Tush (A Noble Lord)---------------------Edward Beckles

Yum-Yum-------------------------------------------Erlene Williams

Peep-Bo---------------------------------------------Dorian Lindsay

Pitti-Sing--------------------------------------------Yvonne Allen (Mrs.)

Katisha (An Elderly Lady in love

        with Nanki-Poo)-------------------------Theo Saunders (Mrs.)

A noble Lord--------------------------------------Carl Tucker

Chorus of Schoolgirls. Nobles, Guards & Coolies

.