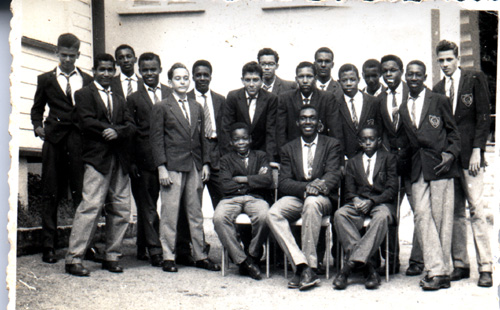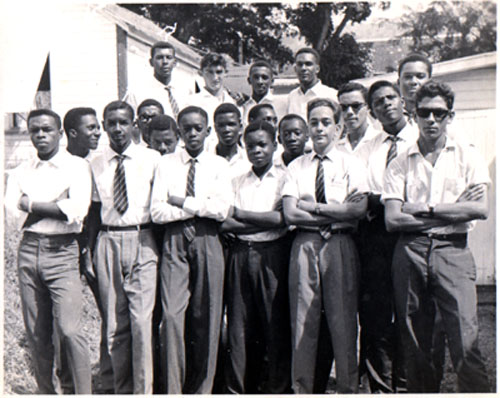 Man!  Nobody better mess with us - what a bunch of serious guys - off to tackle the world.  Now where O' where is everyone now? Do we have a future Prime Minister in our midsts (Yes we do)?  Is there a Senator? Are there Doctors, Managers? Engineers and Scientists?


I had started a very informal photo club on the steps of the old Grammar School. I received an e-mail updating me that Parnell Campbell had a Photo club but with a darkroom and he may be a source of 'old' pictures.



Standing,  from left to right

Kenny Ford, Greaves, John Jack, Morrison Baisden, Geoffrey Nanton, Rose,

Ralph Gonsalves, Bob Cumberbatch, Marshall, Errol Maloney, Glenford Stewart,

Basilon Cole, Roderick Browne, Cameron James, Anthony Gonsalves.

Sitting, L. to R.:David Williams, Ivan Roberts, Lennox Iton.  Thanks Lennox for supplying all of the names.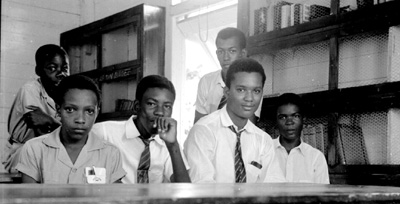 L-R

1.

2.

3.

4. Providence?

5. Tony Hadley

6.

Extremely studious - who would have predicted that this photo would end up on the Internet.

"Uncanny"!

I have had one inquiry about Renwick Rose.- Does anybody know where he is and does he have e-mail?